Thrifting For Valentine's Day Finds
By: Julia Marchand
You can still pull off a fun and fancy Valentine's Day without spending too much money—just head to your local Goodwill! There's no stigma in shopping secondhand for your loved ones. Plus, shopping at Goodwill is a great way to show a little love to the rest of the world because Goodwill's infrastructure helps fund direct services for millions of people annually, and it also results in positive social and environmental outcomes for the global community.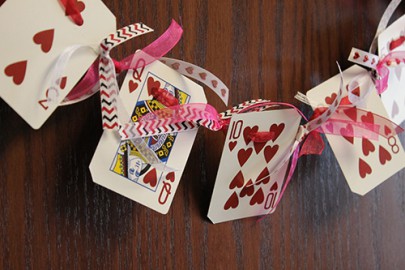 Let's start with a little heart-themed décor. You don't have to go overboard with decorations for Valentine's Day, but a bit of red and white here and there throughout your home or offie might set the tone for the season. I love this simple idea from the Goodwill in Kansas for turning a deck of cards into a queen of hearts garland! It's easy to do, doesn't require a whole lot of supplies, but it still makes a bold statement! Check out this post for directions then head to your local Goodwill for supplies.
Next up, the outfit. For many couples, the main event is dinner at a nice restaurant. Last year, Danielle of the blog Goodwillista was smart enough to make reservations for her Valentine's Day dinner on February 13th instead of fighting crowds on the holiday itself. I love that idea! Then, she and her husband were able to spend some quiet time at home together on the actually holiday. Of course, she still had an occasion to wear this gorgeous red lace dress she thrifted from Goodwill for only $6! Having saved so much money on the dress itself, Danielle was able to spend a little more on the rest of the holiday without feeling guilty. So smart!
No valentine? No problem. Treat yourself! Even if you have a Valentine, a little self-love can go a long way toward feeling confident and productive in life. This blog post from the Goodwill in Orange County, CA shares one simple way to treat yourself for Valentine's Day: by shopping at Goodwill for jewelry and vanity displays! Head on over for inspiration if your vanity could use a little updating, too! Chances are, you'll find the perfect jewelry to compliment your Valentine's Day attire if you're looking under the glass at Goodwill.
Here's to you and your Valentine! Whether you're decorating to stay in or dressing up to dine out, we hope you're able to enjoy this fun holiday without emptying your pockets. Happy thrifting!