Shop & Share: Thrift with the PROS!
By: Jessica Hudgins Smith
At this FREE one-of-a-kind shopping experience, customers will get to shop from racks curated by thrifting PROS! Our influencers have hand-picked unique clothing and accessories just for YOU, so you can relax and discover the treasures they've found at Goodwill! Join us and learn how these fashionistas find top name brands and the hottest trends at prices you can't beat.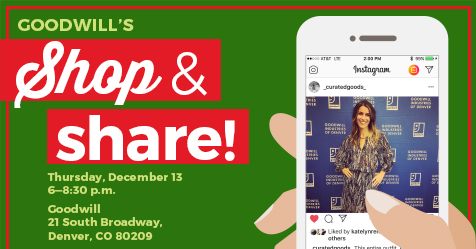 SHOP!
Finding a high-end brand item at Goodwill is one of the best feelings of accomplishments ever! But, let's be honest. Walking into Goodwill and seeing racks and racks of clothing can be a little intimidating for some. That's where our influencers come in! This outstanding group of enthusiastic thrifters are experts at finding the best items in an endless sea of racks. They've been hard at work collecting clothing and accessories they found at Goodwill, and they'll be sharing them with you on December 13th! 
The Deets:
Thursday, December 13
6 - 8:30 p.m.
Goodwill
21 S. Broadway
Denver, CO 80203
Meet the Influencers!
We'd like to introduce you to the PROS you'll get to thrift with on December 13th! You'll have a chance to get styled by these beauties and learn how they score awesome deals at Goodwill everyday.
Each influencer will present a unique rack of their #GoodwillFinds representing their own personal style and fashion favorites. They saved these items just for you, so you can discover the treasures available at Goodwill for a fraction of their retail price!
SHARE!
Make sure to take a selfie at our selfie station with your favorite #GoodwillFind of the night and SHARE it on social media! You'll be entered to win one of two $50 Goodwill gift cards if you use the hashtag #ShopNShare and tag @goodwilldenver on Instagram, Facebook, Twitter, or send us a snap on Snapchat! You must tag us to be entered to win. We'll contact the two winners on social media at the end of the evening, so be sure to follow @GoodwillDenver on all of the things!