DIY Home Décor Ideas
By: Ashley Miller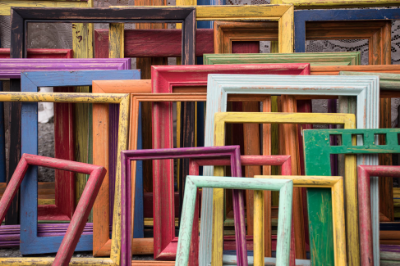 Decorating your home doesn't have to break the bank. There are plenty of options when it comes to reusing or upcycling a treasure from your local Goodwill. You can find new ways to use old items or produce something entirely new and create a cozy home atmosphere using homemade items. Check out these stunning DIY home décor ideas that you can make yourself.
Create A Gallery Wall
Mismatched picture frames are the star of many gallery walls around the Centennial State. Embrace the look of gallery walls that include different shapes, sizes, and styles of frames to create a focal point in a room. You can paint wood, metal, or plastic frames to fashion the perfect gallery wall. Use frames without glass to surround another decorative décor item. You can also attach your own picture hangers to those frames that are missing mounting hardware.
Reimagine Furniture
Goodwill stores across the Denver metro area are brimming with pieces of furniture that are reminiscent of styles from past decades. Shoppers pass up these beauties because they can't see their hidden potential. Look for solid furniture that has unique accents. Disregard the current color and try to imagine the piece with a fresh coat of white, teal, or even black paint. You can salvage almost any kind of furniture and paint it to create a stunning addition to any room at a fraction of the cost of brand-new items.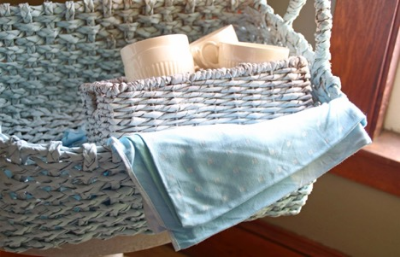 Baskets
Baskets are hidden treasures you can find in any Goodwill store! You can use the larger ones to add a rustic touch to the inside and outside of your home. Use them as hanging planters to cover old-looking pots or add a coat of spray paint and use them to store logs near the fireplace.
Upcycle an Old Ladder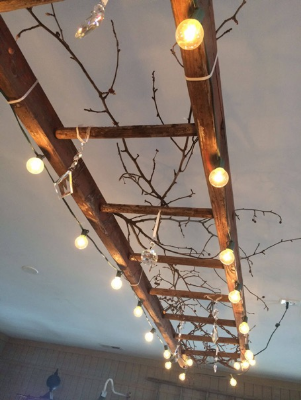 Hunt for an old wooden ladder, a rustic metal one or even a secondhand step stool at your local Denver-area Goodwill! Ladders that have seen a lot of use in another life are now becoming a hot item for home décor. Consider placing a wooden ladder indoors and using it as a shelf or wall hanging. Turn the ladder sideways and hang it from the ceiling to create a drying rack in the laundry room. We recommend sealing the ladder to guard against splinters.
Plant a Vertical Garden
With all the urban gardens in Denver as inspiration—creating a vertical garden can be easy to save space. Using all the space on a sunny outdoor wall gives you more room in the backyard. You can upcycle old shelves, metal cans, glass jars or milk jugs for this project. Paint the containers the same color to create a uniform look or mix up the colors for a more creative style. Drill holes in the bottom and hang the containers along a wall. Fill each one with potting soil and some seeds or a young plant. You'll be surprised at how much produce you can reap from a vertical garden!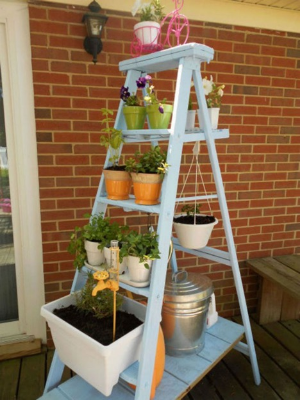 Paint Dated Glassware
There are always plenty of unique shapes and colors of glassware at Goodwill. These are easy to transform into something new! Consider grabbing a few different glass bowls, glasses, vases, or candy jars for an upscale new look for your home. Paint these glass pieces with spray paint to create utensil caddies, flower vases, or even pencil holders for an office desk. Place these painted glass beauties all over your home on bookshelves, kitchen counters, or even in the bathroom for the perfect modern décor.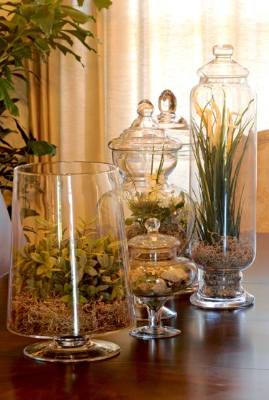 A giant glass bowl also makes an excellent terrarium. Just put some colored stones or moss in the bottom, a little potting soil, and a small plant and voila! You have an impressive centerpiece.
Instead of looking at items as they were, use your imagination and consider what they can be. You'll save money and the environment by keeping these items out of the landfill. The best part is, when you purchase your supplies at Goodwill, you're also supporting tens of thousands of Coloradans in need through its career development programming. Consider these stunning DIY home décor ideas to create a beautiful home inside and out while also making a difference in your community.
Ashley Miller is a home decor and lifestyle writer who cures her HGTV obsession by refurbishing anything and everything she can get her hands on into something new.