Faces of Goodwill
The faces of Goodwill stretch far and wide, and the entire community plays a role in executing the Goodwill mission. YOU are helping people in poverty with every purchase. YOU are preparing tomorrow's workforce. YOU are striving for a better future. YOU are the face of Goodwill. Thanks to corporate partners, donors, shoppers, volunteers, participants, and employees Goodwill has been educating, empowering, and employing Coloradans in need for over 100 years. The lives of thousands of Coloradans in need are better because of YOU.
The Faces of Future Success: Jordan and Wayne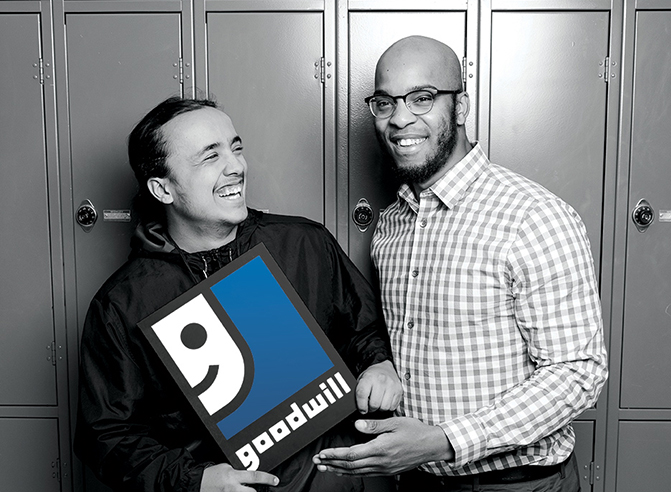 High school senior Jordan Clayton and his Goodwill mentor Wayne Watts work together to keep Jordan focused on achieving his dreams. Jordan faced many challenges when entering high school. His grades were suffering, he lacked a support system, and he and his siblings were the primary caregivers for their chronically ill mother. His life was headed down a dark path.
Things began to change when Jordan met Wayne, who showed him the connection between the classroom today and a career tomorrow. Now Jordan realizes school is not a roadblock, but a crucial step towards achieving his goal of becoming a famous recording artist. Through its Youth Career Development Program, Goodwill supports thousands of local students like Jordan each year. Goodwill staff in 36 Colorado schools help at-risk youth focus on their future through career exploration, higher-education planning, and connecting them with adult mentors like Wayne.
Join Goodwill in congratulating Jordan as he sets his sights on graduation, college, and beyond!
---
Faces of Goodwill Commercial
---
Be a Part of It
Who will? YOU Will. We will. Goodwill.
The faces of Goodwill are everywhere. Donors, partners, shoppers, volunteers, participants, employees – and the stories they share drive the success of our mission forward. Please share YOUR Goodwill story with us on social media!

1. Download and print the "Smiling G" poster by clicking the link above.
2. Take a photo incorporating the Goodwill "Smiling G" poster.
3. Write a caption explaining your Goodwill story. Did you find a treasure at one of our retail stores? Were you moved by Goodwill's mission? Did you volunteer? Whatever your story is, we want to hear about it! Keep it short and sweet.
4. Post it to Facebook, Twitter, Instagram etc.
5. Tag @GoodwillDenver
6. Use the hashtag: #FacesOfGoodwill
Not into social media? Send your photo and your caption to: jhudgins@goodwilldenver.org, and we'll post it for you!
---
Watch their stories:
Visit our YouTube page to see more videos of people whose lives were changed thanks to Goodwill's Career Development Programs.