Helping teens focus on the future
Education and career development for opportunity youth
Goodwill addresses deep deficits in graduation rates by providing education, career development, and mentor programs to opportunity youth. Goodwill's Youth Career Development Program helps young people focus on their future career aspirations in order to ensure success. Goodwill youth specialists are licensed teachers, working in dozens of high-poverty schools across several school districts to provide direction and support to tens of thousands of under-resourced students every year.
---
Program highlights
Classroom instruction
Goodwill youth facilitators work in middle and high schools as teachers, interventionists, case managers, and resource specialists.
Mentor support
Goodwill enlists the help of business professionals to be positive mentors to students, offering guidance and advice.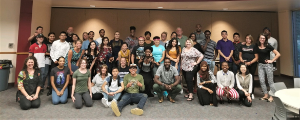 Summer Bridge

The Summer Bridge Program connects first-generation college students with individuals who can offer advice about their own college experience. Students meet with their volunteer mentors in a group setting one evening per week in the summer, and mentors continue to provide support throughout the first year of college. For the fall of 2019, the Goodwill Summer Bridge Mentoring program will specifically focus on supporting students intending to enroll at the Community College of Denver, the Community College of Aurora, Front Range Community College, and Emily Griffith Technical College. The Goodwill Post-Secondary Success team will work with students in the program for the duration of their college careers. If you are a student and would like to participate in Summer Bridge, please contact the Post-Secondary Success team at collegesupport@goodwilldenver.org If you're a student intending to attend one of the colleges listed above, you can fill out an application to the Summer Bridge program here.

Mentor support for young men

The Goodwill Men at Work group mentoring program connects young African American and Latino men to mentors in the community and each other.

Real-world examples

Volunteers conduct resume workshops, career panels, mock interviews, job and life skills coaching, and networking practice to support Goodwill's curriculum with real-world examples.

Job experience

Goodwill connects students with job clubs, job shadow opportunities, jobs, and internship placements. The program also provides service learning and volunteer opportunities for students.

Resources

Goodwill teachers nominate students for scholarships and provide support in searching for potential financial aide and other resource referrals.

Newcomers

Goodwill provides specialized support for refugee students and their families.
Volunteer to help youth succeed. Sign up here.
---
---
Meet Maria Mu
Maria is a recent graduate from South High School and now attends CCD thanks to a full ride scholarship through the African Community Center. Maria is a refugee from Thailand and first came to Goodwill through our Newcomers program in 2012. Before traveling to America, Maria had only left her refugee camp a few times in her life. She not only had to overcome a language barrier, she also had to adapt to American culture, navigate the public transportation system and help her family settle into a whole new world. Having no experience with our higher education system, Goodwill's Ruthann Kallenberg played a major role in making sure Maria had everything she needed to apply for college and scholarships. Watch more Goodwill success stories here. 
---
Mentoring Eligibility Requirements
Goodwill partners with specific schools and serves students from those campuses. The campuses are listed below:

-George Washington High School
-Thomas Jefferson High School
-Martin Luther King Early College
-South High School
-Place Bridge Academy
-Compass Academy
-Kunsmiller Creative Arts Academy
-Aurora West College Prep Academy
-Gateway High School
-Hinkley High School
-Emily Griffith High School
-Bruce Randolph Middle School
-Jefferson High School

Students seeking to be in a Goodwill group mentoring program must attend one of the aforementioned schools and be in a class that Goodwill is partnering with. For more information about student eligibility, please email volunteer@goodwilldenve.org .

Goodwill of Denver is seeking volunteers interested in mentoring youth in a group setting. To qualify as a mentor, you must meet the following criteria:

-21 years or older
-No criminal Record
-Commit to 1 school year of mentoring
-Attend a group mentoring session once a week
-Must pass a federal and state background check as well as reference checks.

If you meet the following qualifications and would like more information about mentoring, please send an email to volunteer@goodwilldenver.org in order to receive an application.