Providing work opportunities to individuals with disabilities
As an accredited agency, Goodwill programs provide services and support to individuals with intellectual and developmental disabilities, so they may exercise their right to participate in the life of the community. Regardless of ability, Goodwill believes that everyone deserves the right to live, learn, play, and work in the community with dignity, choices, opportunities, and responsibilities.
Services
Prevocational services for individuals with developmental disabilities
Prevocational services delivered in American Sign Language (ASL) for individuals who are deaf or hard of hearing
Facility-based day programs
Community-based day programs
Supported Employment Group and Individual Placement
 "Discovery" opportunities for real-work experiences and exploration
Skills training
---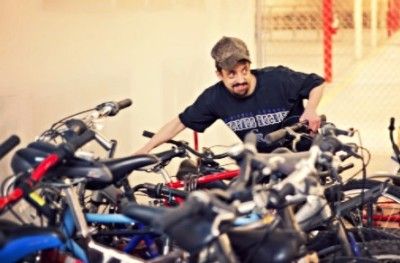 Specialized job programs
Goodwill provides opportunities for individuals with disabilities to learn specific, job-related skills in bike maintenance, janitorial, and electronics recycling.
Employees in the Good Bikes program repair donated bicycles and restore them to excellent working condition. Good Bikes not only provides employment for individuals with intellectual and developmental disabilities, it's also a full service bike shop open to anyone looking for a refurbished bike! Click here to learn more.

Adults with intellectual and developmental disabilities have the opportunity to work with direct support on a supervised "enclave" consisting of 4 to 8 individuals and a supervisor. These enclaves provide light janitorial services to various Goodwill retail stores and a chance to develop their career and social skills.
---
Meet Vashawn Pearson
Vashawn Pearson works as a member of the Goodwill cleaning enclave. Each and every day he overcomes a significant delay in speech and always steps up to the plate to help the other members of his team. Although Vashawn was alienated from his family, he maintains his independence and lives on his own. He's been working with Goodwill since 2012 and always has a positive attitude and a kindness that radiates to those around him. Watch more Goodwill success stories here.
---
Goodwill programs have always maintained accreditation from CARF (Commission on Accreditation of Rehabilitation Facilities.)

For more information, contact Lindsey Leith:
303-650-7703
lleith@goodwilldenver.org