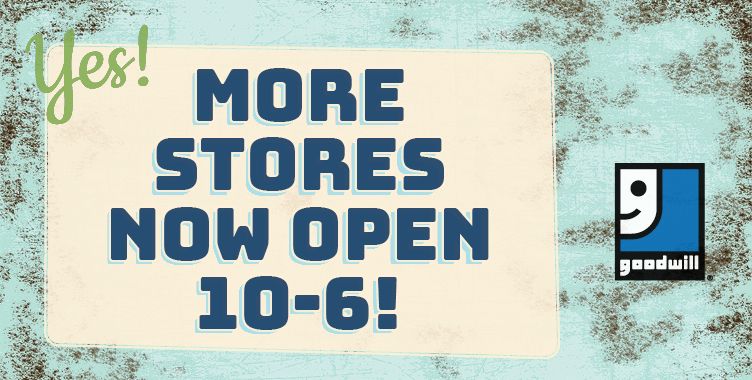 Most Goodwill stores and donation centers are now open from 10:00 a.m. to 6:00 p.m. daily!
We've missed you! Goodwill is thrilled to welcome back our employees, shoppers, donors, and volunteers as we reopen our stores.
We are especially excited to announce that our Parker store has moved to a new location at 11236 South Pikes Peak Drive and opened on Saturday, May 23. See you there!
The following stores opened on Friday, May 29:
• Bear Valley (3100 S. Sheridan)

• Lafayette (555 W. South Boulder Rd.)

• Belleview (14400 E. Belleview Ave.)

• Monaco (6435 E. Hampden Ave.)

• Déjà Blue Boutique (303 University Blvd.)

• Simms (11561 W. Hialeah Pl.)

• Golden (17722 S. Golden Road)

• West (2304 W. Colorado Blvd.–

• Havana (10590 E. Colfax Ave.)
The following stores opened on Friday, May 22:
• Arvada (6340 McIntyre Parkway)

• Lake Arbor (7547 W. 80th Ave.)

• Broomfield (4775 W. 121st Ave.)

• Wadsworth (1450 S. Wadsworth Blvd.)
The following stores opened earlier this month:
For a map, store addresses, and phone numbers of locations in the Denver area and Northern Colorado please click here. For locations in Southern and Western Colorado, click here.
PLEASE NOTE: Due to government orders, masks are encouraged to be worn at all locations and required for all customers and employees at our DENVER, BOULDER, FORT COLLINS and LOVELAND stores. In addition, masks AND gloves are required at all OUTLET WORLD locations.
Effective May 13, all open stores (excluding Outlets) will have special shopping hours exclusively for seniors and those considered at-risk. Please join us every Wednesday from 9 a.m. to 10 a.m.
These locations' hours will be 10:00 a.m. to 6:00 p.m. daily for each store and attended donation drop-off. Stay tuned for details on the rest of our stores' reopening dates. As we work with state and local governments, we will share those details on this page as soon as they are confirmed. And as always, you can discover and purchase thousands of treasures from the comfort of your own home at PickGoodwill.com.
We will be closely following the safety guidelines from the State of Colorado to keep our guests and team members safe:
Please do your part and stay 6 feet apart.
Shopping aisles are one-way — check out our floor decals to know which way to go!
Please follow our team members' requests for your safety.
Our dressing rooms will be temporarily closed for safety.
Guests waiting at the cash register will be asked to maintain six feet of social distancing.
Additionally, Goodwill welcomes donations of clothing, household items and other gently-used goods and, in partnership with the state's Emergency Management Office, is accepting donations of non-perishable food, masks, scrubs, fabrics and cleaning supplies. Thanks for your support!
We can't wait to see you! Thank you for your patience as we have navigated this unprecedented situation together.