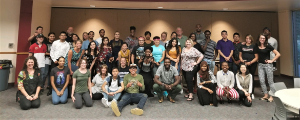 Give back this summer and help prepare local students for the demands of college.
Goodwill's Summer Bridge Program connects first-generation college students with individuals who can offer advice and guidance to students navigating through their first semester in college. Students meet with their volunteer mentors in a group setting one night per week in the summer, and mentors continue to provide support throughout the first year of college.
The schedule of the program is ideal for volunteers who cannot get away during the workday but still want to make a strong impact on a student. Mentors are matched with two college bound high school graduates. There are two locations to choose from: downtown Denver or central Aurora.
For the fall of 2019, the Goodwill Summer Bridge Mentoring program will specifically focus on supporting students intending to enroll at the Community College of Denver, the Community College of Aurora, Front Range Community College, and Emily Griffith Technical College. 
Contact erose@goodwilldenver.org for more information. Click here to start a mentor application.