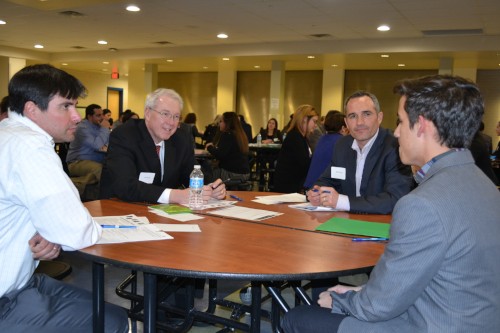 DENVER, Colo. – More than 160 volunteers came together for Goodwill's Major Mock Scholarship Interviews to support students from across Colorado, who are finalists for major scholarships. We even had a handful of students who traveled all the way from Grand Junction!
In addition to practicing their interviewing skills, students had their questions answered by a panel of current college students and recent graduates and met their fellow scholarship finalists. Thank you to all of our volunteers who made this event a success. We had volunteers from Bank of America, Colorado Rockies, Comcast, DaVita, Denver Community Church, Junior League of Denver, Novitas, Oracle, Pinnacol Assurance, State Farm, Travelers Insurance, and U.S. Bank!
We'd also like to extend a special thanks to Ian's Pizza who donated food for our volunteers and students! Click here to see more photos from the event on our Facebook page.