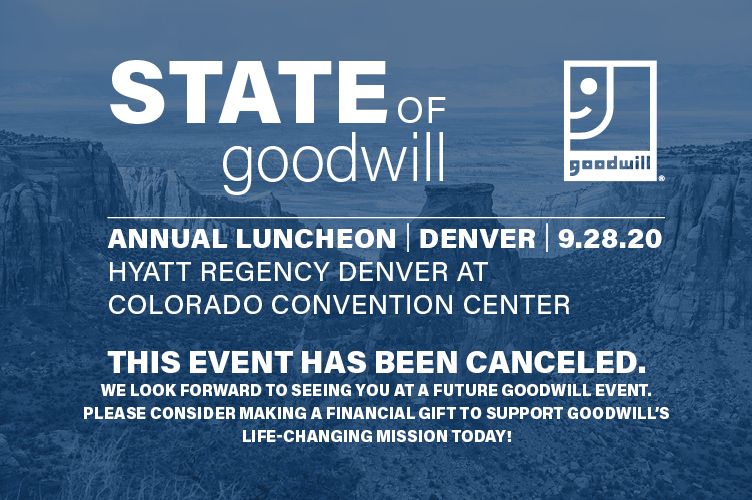 This event has been canceled.
As part of Goodwill's continued response to COVID-19, and our emphasis on the safety and well-being of our community, we have regretfully canceled our Annual Luncheon, scheduled for September 28 at the Hyatt Regency Denver at Colorado Convention Center. We look forward to celebrating the accomplishments of our honorees with you at a later date, and will be sure to keep you posted.
In the meantime, we continue to explore ways to share the stories of the individuals whose lives have been positively changed thanks to Goodwill's mission and your support.
Now more than ever, we need your generosity as we recover from the extended closures of our stores and programs earlier this year.
Please GIVE NOW to give Coloradans in need a second chance and get on a path of self-sufficiency and independence.
If you have any questions or would like to reserve your space for next year, please call Bonnie Martinez at 719-352-1034.
Thank you!
---
2019 Luncheon Winners and Sponsors:
Thank you to all of our guests and sponsors who attended Goodwill's 23rd Annual Power of Work Luncheon in 2019! Your generosity and support helped raise funds for Goodwill's life-changing career development programs. If you'd like to browse through photos from the day of the event, please follow us on Facebook and find the 2019 Goodwill Power of Work Luncheon photo album. You can watch our 2019 awardee videos by clicking on their photos below or visiting our YouTube channel










Creager Business Depot   |   Dan May—Chairman's Table
Davis Graham & Stubbs LLP   |   The DaVita Village
Mercer   |   Michael Best & Friedrich LLP
Sure-Way Recycling

Banner Signs and Decals   |   Denver Metro Chamber of Commerce
Dream Books Company   |   Dr. Richard Heppe & Diane Reeder
Good Feet   |   Harold & Margaret Klausner   |   Inline Media
Integrity Fire Safety Services  |   Kaiser Permanente  |   Karla Grazier
LIV Sotheby's International Realty   |   MDC/Richmond American Homes Foundation
Mercer   |   Newmark Knight Frank   |   RevGen Partners
Tom & Lori Wildenberg   |   The Urology Center of Colorado (TUCC)
Verified Volunteers   |   Weifield Group
---