Make a financial donation
A gift to Goodwill Industries of Denver provides career opportunities for at-risk students, struggling adults, and individuals with disabilities right here in Colorado. The best part is, your financial gift goes directly to Goodwill's career development programs. 

---
Meet Brady Haynes
When you give to Goodwill, you're helping people like Brady Haynes. Brady is a farmer and a scientist in the field of Agronomy in Sedgwick, Colorado, who works with other local farmers to optimize their crops' yield, soil and other environmental factors. As an individual who uses a wheelchair, Brady found it difficult to get out into his clients' fields to see how their crops were growing—or not—in order to test and monitor the soil, plants and pests.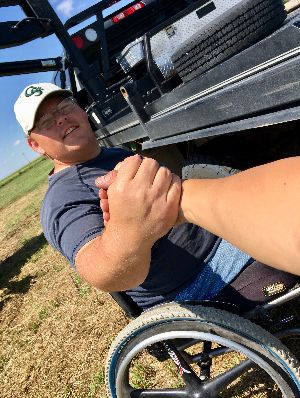 Thanks to the Colorado AgrAbility Project, one of Goodwill's many mission programs, Brady received two agricultural drones. This is such an incredible innovation! The drones fly out into the fields where it's harder for Brady to access and collect the data he uses to help growers spot and treat crop disease and use water more efficiently.
Brady is grateful for the help he's received from AgrAbility: "They work so hard! I've sent them a ton of ideas, and they always get right back to me," Brady says of his AgrAbility managers. "Their guidance and support mean the world to me."
The unique partnership between Goodwill, Colorado State University, and the Colorado Department of Labor's Division of Vocational Rehabilitation allowed AgrAbility to provide direct services to over 85 Colorado farmers across the state, and provide educational workshops, networking opportunities, counseling, education, referrals and advocacy to more than 1,806 individuals in 2018! 
---
Watch their stories:
---
Ways you can help
Monthly Giving Club

Support Goodwill's programs year-round through automatic monthly credit card donations or electronic fund transfers.

Tribute Gift

Make a donation in honor of a loved one and support life-changing programs for people in need.

Planned Gift

Ensure that Goodwill meets the needs of our local community now and into the future by including Goodwill in your charitable estate plans. There are many ways to make a planned gift depending on your financial situation and giving goals. Learn more about your options here.

Support Goodwill on Colorado Gives Day

Colorado Gives Day is an annual statewide movement celebrating philanthropy across the state through online giving. Usually falling on a Tuesday in early December, Coloradans are encouraged to participate by donating to their favorite charities on Colorado Gives Day, but you can give to Goodwill on ColoradoGives.org year-round. You can also setup recurring donations and schedule your donation ahead of time to be processed on Colorado Gives Day. Click here to support Goodwill on Colorado Gives Day!
---
Denver Enterprise Zone Tax Credit
All unrestricted gifts of $250 or more designated to the Youth Career Development Program are eligible for the Denver Enterprise Zone (DEZ) Tax Credit, a 25% credit on your Colorado state income tax return for cash contributions.
For more information or to discuss your philanthropic goals, please email us.