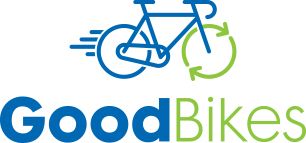 Good Bikes is a program developed by Goodwill Industries of Denver to provide employment and job skills training to individuals with intellectual and developmental disabilities. Good Bikes participants are trained and paid to repair donated bikes and restore them to excellent working condition. Revenue from the sale of the bikes fund Goodwill programs that keep our community rolling.
Continue the cycle. Donate your bike today!
Shift into a new gear by donating your used bike to Goodwill. Your donations help Goodwill Industries of Denver keep more than 74 million pounds of goods from ending up in landfills every year. For donation locations, click here.
Thanks for going along for the ride!