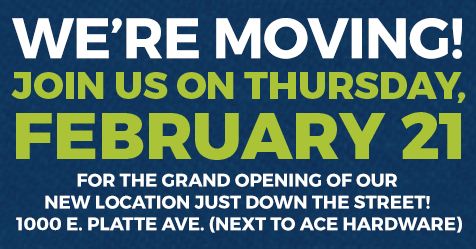 DENVER, Colo. — Goodwill Industries of Denver is excited to host a grand opening celebration for the Fort Morgan community at its new store located at 1000 E. Platte Avenue on Thursday, February 21. The Goodwill retail store located at 110 West Platte Avenue will be moving into the new location less than a mile up the road.
"Goodwill is committed to serving the Fort Morgan community, and we couldn't be more excited to settle in just a few blocks from where we're currently located," said Karla Grazier, Interim President and CEO of Goodwill Industries of Denver. "We'd like to show our gratitude for the people of Fort Morgan for supporting this organization and its life-changing career development programming by throwing a party for everyone!"
With the lease expiring at its current location, Goodwill was determined to find a new home in Fort Morgan. Leading up to the move, nearly everything will be 50% off at the current store on February 16, 17 and 18. Both locations will be closed on February 19 and 20 as infrastructure is moved from one location to the next. Goodwill will celebrate the opening of the new store on Thursday, February 21 starting at 8 a.m.
WHO:
Fort Morgan Mayor Ron Shaver
Fort Morgan Chamber of Commerce Executive Director Robin Northrup
WHAT:
A ribbon cutting ceremony will take place in front of the store right before the doors open to the public. The entire community is invited to shop, enjoy free coffee, donuts and snacks throughout the day and register to win prizes every hour!
WHEN:
Thursday, February 21
8 a.m. – 4 p.m.
WHERE:
Goodwill's new Fort Morgan store:
1000 E. Platte Ave.
Fort Morgan, CO 80701
About Goodwill Industries of Denver
Goodwill Industries of Denver provides career development resources for tens of thousands of Coloradans with barriers to employment. Goodwill's community programs facilitate job preparation and skills training for at-risk youth, struggling families and individuals with disabilities. Through its thrift retail operations, donations, corporate partnerships and recycling processes, Goodwill is ensuring that every individual in our community has the opportunity to live to their fullest potential and overcome obstacles to find success and self-sufficiency. Goodwill Industries of Denver began its legacy of community impact in the Mile High City in 1918. Visit goodwilldenver.org to learn more about its 100 year history in Denver.
###