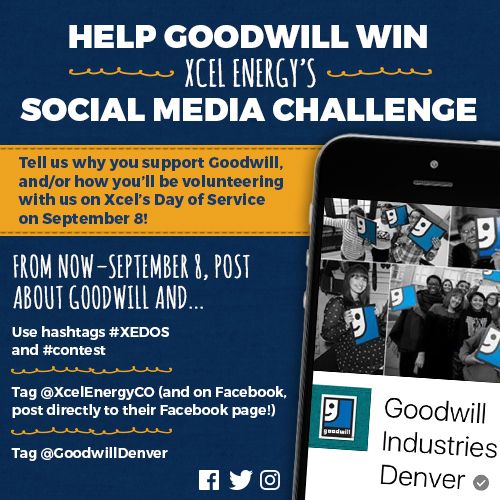 DENVER, Colo. – Calling all social-savvy supporters: help us get a chance to win up to $5,000. Xcel Energy Foundation has issued a social media contest, and we're up to the task. Please take a few minutes and post about us on social media now through Saturday, September 8!
This contest is part of Xcel Energy's 8th annual Day of Service event on September 8, 2018. Xcel Energy Foundation will award grants to the participating nonprofits that earn the most points Every original post helps our point total! Shares, reposts or retweets don't count.
Be sure to follow the guidelines below – and post new material as many times as you want. The more original material you post, the better our chances of winning. Let's build a winning social buzz!
Your post must include:
1. The hashtags #XEDOS and #contest
2. Tag Xcel Energy Colorado:
• On Twitter: tag @XcelEnergyCO
• On Instagram: post a photo or video about our project and tag @xcelenergy
• On Facebook: post directly to the Xcel Energy Colorado Facebook page AND tag @XcelEnergyCO
3. Tag Goodwill Industries of Denver:
• On Twitter: tag @GoodwillDenver
• On Instagram: tag @GoodwillDenver
• On Facebook: tag @GoodwillDenver
*Remember to tag Goodwill Industries of Denver ONLY. Posts or tags to Goodwill Industries International or other Goodwill chapters are not eligible.
4. Tell us why you support Goodwill, or how you're volunteering with us through Xcel Energy's Day of Service on September 8.
You can find contest details and the Official Rules on xcelenergy.com