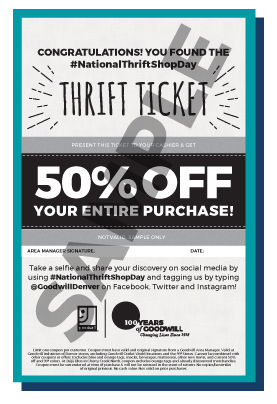 DENVER, Colo. – Friday, August 17 is National Thrift Shop Day! Goodwill is celebrating by hiding Thrift Tickets in each of our stores. If you find a Thrift Ticket, you'll be able to use it to redeem 50% off your entire purchase!* Only two tickets will be hidden at each location, so get there early and start hunting!
A sample Thrift Ticket is pictured to the right, so you know what to look for. Here's a hint: check the hangers! 
If you're one of the lucky ones who finds a ticket, be sure to share your discovery on social media! Take a selfie, then use #NationalThriftShopDay in all of your posts and tag @GoodwillDenver on Facebook, Instagram and Twitter! We'd love to see the winners in action!
*Limit one ticket per customer. Coupon must have valid and original signature from a Goodwill Area Manager. Valid at Goodwill Industries of Denver stores, excluding Goodwill Outlet World locations and the 99¢ Stores. Cannot be combined with other coupons or offers. Excludes blue and orange tags, snacks, beverages, mattresses, other new items, and current 50% off and 99¢ colors. At Déjà Blue in Cherry Creek North, coupon excludes orange tags and already discounted merchandise. Coupon must be surrendered at time of purchase & will not be reissued in the event of returns. No copies/facsimiles of original printout. No cash value. Not valid on prior purchases.