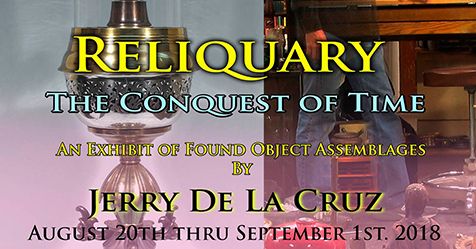 DENVER, Colo. – Denver-based visual artist Jerry De La Cruz is bringing his Reliquary Series to Goodwill! Goodwill shoppers and art enthusiasts alike can come check out De La Cruz's unique reliquary collection at the Goodwill store located at 21 S. Broadway in Denver from August 20 to September 1.
"The concept for my Reliquary Series came to me after frequent trips to Goodwill while hunting for antique and vintage gems sitting unappreciated on the shelves," said Jerry De La Cruz. "I decided to use various items purchased from Goodwill to mimic traditional religious reliquaries, many of which can be found in houses of worship throughout Europe and beyond. But instead of housing holy relics, my contemporary reliquaries will hold my collected gems. In keeping with the fact that many 'true' relics are fakes, I have given my relics false attributions—in many cases presented with a humorous edge."
Mr. De La Cruz is generously donating 20% of net sales from the collection to Goodwill. Members of the public are invited to meet Mr. De La Cruz at the Artist Reception happening on Friday August 24 from 7 to 9 p.m. at the store.   
WHAT:
Reliquary: The Conquest of Time
An exhibit featuring hand-crafted works of art by Denver's own Jerry De La Cruz using items discovered at Goodwill.
WHO:
Jerry De La Cruz, Visual Artist. Mr. De La Cruz has a 47-year history as a professional artist in the Denver creative community. He has work in the permanent collection of the Denver Art Museum, has sat on the Denver Commission on Cultural Affairs, and in a pole taken by the Denver Post in 2001 De La Cruz was cited along with 43 other artists as being the most influential Colorado artists of the previous 100 years. His teaching credentials include 17 years with the Art Students League of Denver as a founding instructor and eventually the board of directors.
 
WHEN:
         Monday, August 20 – Saturday, September 1
         9 a.m. – 9 p.m.
         Artist Reception
         Friday, August 24
         7 – 9 p.m.