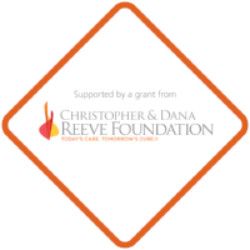 DENVER, Colo. – In partnership with the Colorado State University Extension office, Goodwill Industries of Denver will be hosting three AgrAbility workshops this fall specifically for Rural Coloradans living with spinal cord injuries (SCI), multiple sclerosis (MS), cerebral palsy (CP), amyotrophic lateral sclerosis (ALS) and traumatic brain Injuries (TBI). Family members, caretakers and service providers are also invited to attend. Attendance is free thanks to the Quality of Life Grant Goodwill received from the Christopher & Dana Reeve Foundation. The $14,000 grant will allow AgrAbility participants in rural Colorado to travel to the educational workshops, and—if needed—may be used to secure lodging during their stay and provide childcare and livestock assistance stipends to families who will be leaving their ranch in order to attend.
These workshops will be focused on exploring issues and needs that individuals living with spinal cord injuries are experiencing in Colorado's most rural areas where resources may be hard to come by. The full-day session will provide an opportunity to discuss what is or isn't going well in each community and explore improvements that can be made.
Trinidad Workshop
Friday, September 29, 2017
8:30 a.m. — 4:30 p.m.
Trinidad State Junior College
600 Prospect Street
Trinidad, CO 81082
Pioneer Room
Grand Junction Workshop
Wednesday, October 25, 2017
8:30 a.m. — 4:30 p.m.
Center for Independence
740 Gunnison Avenue
Grand Junction, CO 81501
Sterling Workshop
Wednesday, November 29, 2107
8:30 a.m. — 4:30 p.m.
Logan County Extension Office
508 S. 10th Avenue #1
Sterling, CO 80751
Register by contacting Candy Leathers or James Craig:
Candy Leathers
720-539-4435
cleathers@goodwilldenver.org
James Craig
720-737-3686
jcraig@goodwilldenver.org 
About Colorado AgrAbility Project
Colorado State University Extension and Goodwill Industries of Denver work together on the Colorado AgrAbility Project to provide disability workshops, on-site evaluations, resource information, equipment modification, and assistive technology. The U.S. Department of Agriculture National Institute of Food and Agriculture provides funding for the Colorado AgrAbility Project.
About the Reeve Foundation
The Christopher & Dana Reeve Foundation is dedicated to curing spinal cord injury by funding innovative research and improving the quality of life for people living with paralysis through grants, information and advocacy. We meet all 20 of the Better Business Bureau's standards for charity accountability and hold the BBB's Charity Seal. The Paralysis Resource Center (PRC) is a program of the Reeve Foundation, and is funded through a cooperative agreement with the Administration for Community Living (cooperative agreement number 90PR3002). For more information, please visit our website at www.ChristopherReeve.org or call 800-539-7309.