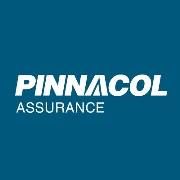 DENVER, Colo. – Pinnacol Assurance has awarded grants totaling more than $291,000 to 13 Colorado nonprofits including Goodwill Industries of Denver to help injured workers get back to work and stay healthy, and ensure that Colorado has a robust business climate and the workforce it needs. The grant recipients are:
9Health Fair

American Heart Association

The Chanda Plan Foundation

Colorado Mesa University Foundation

Colorado Mountain College

Denver Education Attainment Network

Denver Public Schools Foundation

Discover Goodwill of Southern and Western Colorado

Junior Achievement-Rocky Mountain, Inc.

Mile High Youth Corps

Sedgwick County Economic Development Corp.

The University of Colorado Foundation

"Pinnacol's community giving centers on three pillars: workplace safety, rehabilitative health and wellness, and economic vitality and workforce development," explained Edie Sonn, vice president of public affairs and communications. "Our latest round of grants highlights all three of those pillars, and is just the latest example of our deep commitment to the workers, businesses and economy of Colorado."
The grants are designed to make an impact in diverse communities around the state, with grantees supporting causes like economic development on the Eastern Plains, workforce development in the mountains and on the Western Slope, and a variety of efforts along the Front Range.
Click here to learn more about Pinnacol's multi-year grant funding.
---
Pinnacol awarded Goodwill Industries of Denver $10,000 in order to provide career navigation resources for local youth at the new Moorhead Recreation Center in Aurora. Goodwill will have a facilitator staffed in the Pool View Room of the recreation center Monday through Thursday from 10 a.m. to 2 p.m. throughout the summer. Services offered at this brand new facility include but are not limited to: