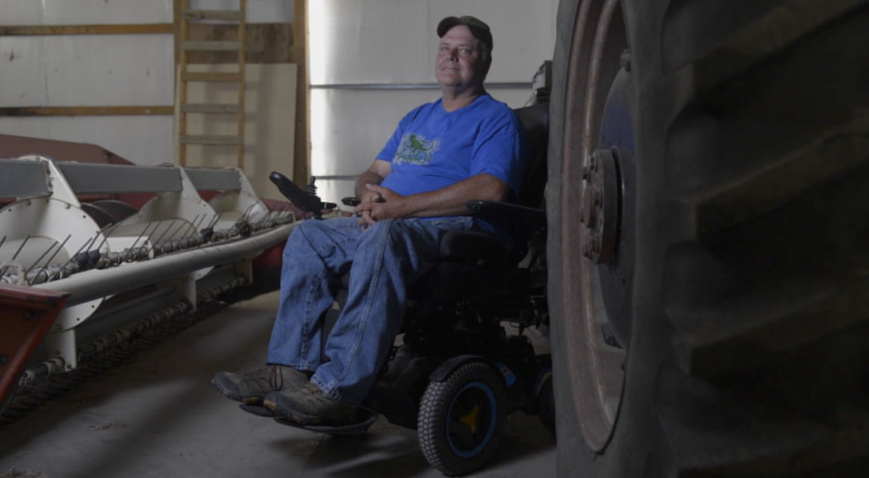 DENVER, Colo. – 55 year-old Jerry Michel is from Atwood, Colorado. He got help from the AgrAbility program many years ago and just recently contacted us again to request more assistance.
Jerry was injured in a car crash in the 80's and is paralyzed from the waist down. A third-generation farmer, he's been able to continue running his farm post-injury with support from the AgrAbiility program, the Division of Vocational Rehabilitation and his family and friends.
After spending years in a wheelchair, Jerry is now experiencing difficulties with his shoulders as the shoulders aren't designed to replace the work of your legs. The good news is, we were able to install a gullwing lift on his truck and have a standing all-terrain trackchair on order! These additional supportive devices will take the burden off Jerry's shoulders, and will ensure he is able to continue working in agricultural. 
Click here to Watch Jerry Michel's testimonial.
About AgrAbility
Colorado farmers and ranchers are able to continue working, despite a long term illness, permanent injury, aging or a change in condition, thanks to the Colorado AgrAbility program—a unique partnership between Goodwill, Colorado State University Extension Services, and the U.S. Department of Agriculture. The collaboration promotes independence in agriculture by providing direct assistance, information and education to those dealing with functional limitations.