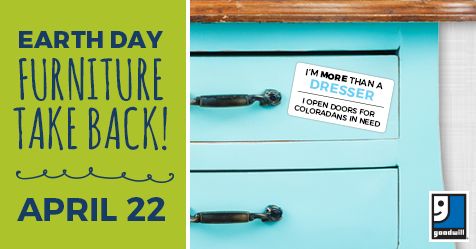 DENVER, Colo. – Goodwill Industries of Denver is partnering with IKEA Centennial to keep old furniture out of the landfill on Earth Day! Join us for the Sustainable Living Your Way event on Saturday, April 22 and do your part to protect the Earth and support those in need.
Put your old furniture to good use!
Bring your gently used furniture to IKEA Centennial and receive a $20 coupon towards a purchase of $150 or more, so you can buy stylish new furniture! We can accept most living room, dining room, office and bedroom furniture with the exception of mattresses, bedding, baby and children's furniture. Your donations will go to Goodwill Industries of Denver to support more than 27,000 Coloradans in need through the Power of Work.
Did you know...
Goodwill Industries of Denver recycled more 35 million pounds last year! When you donate your gently used items to Goodwill, you are recycling and re-purposing items that would otherwise be destined for the landfill. With its R2:2013 Certification, Goodwill Denver is one of the greenest companies in the country. Click here to learn more about our recycling practices and certifications.
Saturday, April 22
9:30 a.m. – 6 p.m.
IKEA Centennial
9800 E. IKEA Way
Centennial, CO 80112
Click here to R.S.V.P.
We cannot accept the following items:
• Car batteries
• Carpet
• Chemicals
• Construction materials
• Car seats, cribs, or strollers
• Damaged furniture
• Drugs or drug paraphernalia
• Large appliances
• Mattresses or box springs
• Paint
• Pressurized containers
• Propane tanks
• Skis
• Swings or slide sets
• Tires
• TVs*
• Weapons or ammunition
• Windows or doors
• Water heaters
*We are unable to accept TVs. However, we accept all other types of electronics, including cell phones and computers (which are securely wiped clean of data).