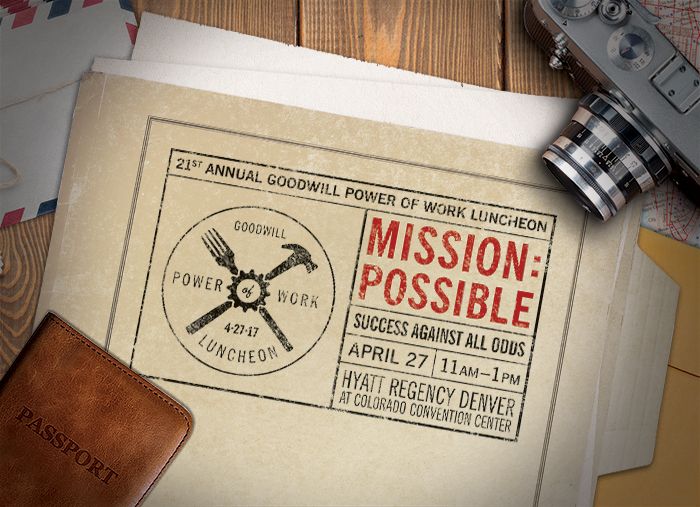 DENVER, Colo. – Goodwill Industries of Denver is excited to recognize four outstanding program participants and one Community Leader at the 21st Annual Goodwill Power of Work Luncheon on Thursday, April 27 at the Hyatt Regency Denver. The 2017 Power of Work Award winners have overcome seemingly impossible odds such as political strife, chronic illness, homelessness and developmental disabilities on their paths to find success. Described as one of the most inspirational nonprofit events in Colorado, Goodwill is thrilled to have Jason Romero—the first and only legally blind athlete to run across the country—give the keynote address. More than 800 influential corporate and community leaders will join Goodwill Industries of Denver to honor the Power of Work awardees and recognize Linda Childears, President and CEO of the Daniels Fund, with the Community Leader Award for her passion and commitment to philanthropy.
WHO:
Stuart Davie: President and CEO, Goodwill Industries of Denver
Linda Childears: President and CEO, Daniels Fund
Jason Romero: Founder, Relentless Romero
Maria Mu: Bright Future Award
Vashawn Pearson: Inspiration Award
Sylvia Johnson: Family Strengthening Award
Brandon Madrid: Opportunity Award
WHAT:
A charity fundraiser for Goodwill Industries of Denver
WHEN:
Thursday, April 27
11 a.m. – 1 p.m.
WHERE:
Hyatt Regency Denver at Colorado Convention Center
650 15th St.
Denver, CO 80202
Click here to reserve your seat at the luncheon!