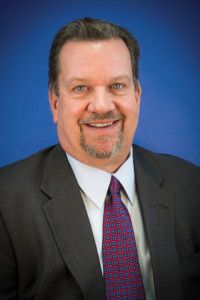 DENVER, Colo. – Goodwill Industries of Denver is pleased to announce new leadership to its Board of Directors. After holding its annual elections, Dan May, Chief Financial Officer of Renal Ventures Management, was selected as the new Chairman of the Board. Jennifer Sobanet, Vice Chancellor of Finance at the University of Colorado Denver, remains the Vice Chair.
Dan May begins his duties as Chairman of the Goodwill Board following the three-year leadership of Greg Ball, retired Risk Management Executive at AIG. "It has been a pleasure working with Greg Ball as Board Chair," said Stuart Davie, President and CEO of Goodwill Industries of Denver. "Greg has done an exceptional job leading Goodwill's Board of Directors for the past three years. I have no doubt that Dan May will pick up right where Greg left off and will guide Goodwill to even higher levels of community impact."
"Being a member of Goodwill's Board of Directors is a rewarding job. Seeing the mission in action and the lives that are changed through Goodwill's services makes the work we do all the more important," said Dan May, newly appointed Board Chair for Goodwill Industries of Denver. "I'm looking forward to my new role and doing all I can to ensure Goodwill's retail stores thrive, and its programming continues to impact tens of thousands of Coloradans in need for many years to come."
Playing an active role in the Denver community is a high priority for May. In addition to serving on Goodwill's Board of Directors, he is a former board member and Chairman of the Board of both Craig Hospital and the American Lung Association of Colorado. He also served on the board of the Downtown Denver Partnership.
Vicki Lovato, Partner at Silver & Deboskey, takes over for Jean Lawhead as Goodwill's Board Secretary. Lawhead, VP of Sales and Marketing at Delta Dental of Colorado, served in the position for six years. Diane Reeder, Principal at Thompson White LLC., remains the Board Treasurer.