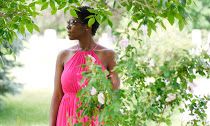 Editor's Note: Nicole Magloire is a Youth Services Specialist at Goodwill Industries of Denver. She wrote the following reflection about a recent Goodwill student field trip on her personal blog that has no affiliation with Goodwill Industries of Denver.

DENVER, Colo. – This week I went on one of my first field trips in years. Myself and a few of my colleagues took a group of thirty high school students on a trip to the Denver Police Department, and it was awesome.
DPD is one of the many groups that sends their staff to mentor in our (Goodwill's) classrooms. Out of the 30 students that we took, about ten or so of them have mentors who are cops. It was such a positive and inspiring experience because having cops as their mentors has completely changed their perception of law enforcement. Where these students once saw just a badge and someone who saw them as only a nuisance, they now see a mentor, friend and a role model.
Something that really impacted me from the experience was meeting the Executive Director of safety for Denver. The person that holds this position is in charge of overseeing everything that has to do with safety in Denver. That includes fire, police and the sheriffs department. Pretty much the Executive Director is the head honcho, the main boss and all around a big deal and--surprisingly to me---an African American woman.
When Executive Director O'Malley, stood in front of us and started welcoming us and sharing about her role and responsibilities, I was mystified. It was so cool to see someone that looked like me and like a lot of the female students that we brought on the trip, holding the highest position in the building and one of the highest positions in the city. I hung on to every word that she shared and when she finished I sat back in my chair feeling like I had just experienced something really important.
When the field trip wrapped up and I walked my group of students back to the train I was deeply moved by the conversations that I overheard.
Click here to read Nicole's full reflection on her blog Give the grave only bones.