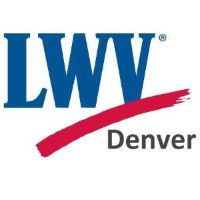 DENVER, Colo. – The League of Women Voters of Denver recognized an employee of Goodwill Industries of Denver as one of 14 Women to Watch on Sunday, March 19. Sylvia Johnson, HR Recruiting Coordinator for Goodwill Denver, was presented with her award during a ceremony at Montview Presbyterian Church.
The 14 women selected by the League were honored for having made strides to fulfill their personal goals after overcoming significant challenges. Sylvia past has been anything but easy. After being kicked out of her home at just 12 years old, Sylvia struggled as a teen mom, battled homelessness and conquered an abusive relationship.
With her children by her side, Sylvia was humble and gracious for the recognition. "It was very nice for the League to honor me in this way," said Sylvia. "Being in the spotlight is not something I'm used to, but I am so grateful my Goodwill colleagues thought to consider me for this."
Sylvia will be recognized again at the end of April at the 21st Annual Goodwill Power of Work Luncheon. One of just four awards given out once a year by the organization, Goodwill selected Sylvia for the Family Strengthening Award for her determination and tenacity to provide a better life for her children despite the obstacles standing in her way.
The Power of Work Luncheon will be held Thursday, April 27 from 11 a.m. to 1 p.m. at the Hyatt Regency Denver at Colorado Convention Center. Click here to register.