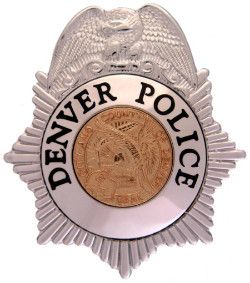 DENVER, Colo. – Goodwill Industries of Denver is thrilled to have several Denver Police Officers mentoring students in its youth career development programming. As part of its partnership with Goodwill, the Denver Police Department will be hosting a group of nearly 50 students from Thomas Jefferson High School on a tour of its Police Headquarters and Crime Lab on Tuesday, March 21. Students who attend the field trip will also be shown a police movie, participate in an interactive police career panel and hear a presentation about the Denver Cadet Program.
"The Denver Police Department is proud to be a part of Goodwill Denver's mentoring programs, which have a significant and positive impact on our youth," said Denver Police Chief Robert White. "Continuing with this program is not only important because of the positive effect it has on the students, but also on our police officers who build lifelong connections with the students."
Denver Police Officers have been participating in Goodwill's youth mentoring programs since 2014. As volunteer mentors, DPD officers and commanders come dressed in uniform to visit with their students at their prospective schools once a week throughout the school year. Not only are the mentors helping prepare each student for a brighter future, they are improving the relationship Denver Police Officers have with the communities they are sworn to protect.
"Having uniformed police officers in our classrooms is impacting our community in such a positive way," said Stuart Davie, President and CEO of Goodwill Industries of Denver. "The bonds the officers have formed with our students are changing the way Denver's youth think about law enforcement. We are extremely grateful and proud of the Denver Police Department's commitment to our programs, and hope to see it continue for years to come."
Click here to watch a video about the impact Denver Officers are having on students at Thomas Jefferson High School.
WHO:
Chief Robert White, Denver Police Department
Stephanie O'Malley, Executive Director of Safety, Denver Police Department
Stuart Davie, President & CEO, Goodwill Industries of Denver
WHAT:
A collaboration between the Denver Police Department, Goodwill Industries of Denver and Thomas Jefferson High School giving students a hands-on experience to learn about all the different careers in public safety. Click here to watch a video about the impact Denver Officers are having on students at Thomas Jefferson High School.
WHEN:
Tuesday, March 21
10 a.m.: Welcome from Police Chief Robert White
10:30 a.m.: Police Movie
11a.m. – 12 p.m.: Officer Career Panel with representatives from Gang Unit, Homicide, SWAT, Narcotics and Victims Assistance.
12 – 1 p.m.: Lunch and Denver Public Safety Cadet Program Presentation
WHERE:
Denver Police Crime Lab and Denver Police Headquarters
1371 Cherokee St. Denver, CO 80204