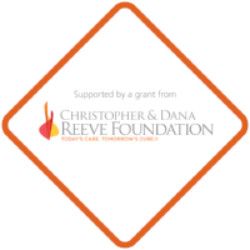 DENVER, Colo. – Goodwill Industries of Denver was selected as one of dozens of organizations nationwide to receive a Quality of Life grant from the Christopher and Dana Reeve Foundation. The $14,000 grant will fund Goodwill Denver's AgrAbility workshops targeted to farmers and ranchers with spinal cord injuries and their families.
This generous gift will allow AgrAbility participants in rural Colorado to travel to the educational workshops, secure lodging during their stay and provide childcare and livestock assistance stipends to families who will be leaving their ranch in order to attend.
Through a partnership between Goodwill Industries of Denver, Colorado State University Extension Services and the U.S. Department of Agriculture, the AgrAbility program helps injured and disabled farmers and ranchers maintain regular employment. The collaboration promotes independence in agriculture by providing direct assistance through farm equipment adaptation, home modifications, education and resource referrals.
The Reeve Foundation has distributed more than $20 million in Quality of Life grants since its inception in 1999. Goodwill Industries of Denver was one of 102 nonprofit organizations nationwide to receive a Quality of Life from the Reeve Foundation in the second cycle of 2016.
About the Reeve Foundation
The Christopher & Dana Reeve Foundation is dedicated to curing spinal cord injury by funding innovative research and improving the quality of life for people living with paralysis through grants, information and advocacy. We meet all 20 of the Better Business Bureau's standards for charity accountability and hold the BBB's Charity Seal. The Paralysis Resource Center (PRC) is a program of the Reeve Foundation, and is funded through a cooperative agreement with the Administration for Community Living (cooperative agreement number 90PR3002). For more information, please visit our website at www.ChristopherReeve.org or call 800-539-7309.