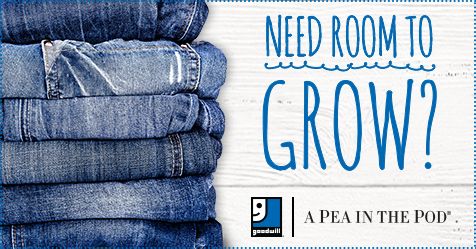 ROCKVILLE, MD — Moms-to-be can get their new jeans on with the help of Goodwill and A Pea in the Pod. Goodwill®, a leading nonprofit social enterprise, and A Pea in the Pod®, the world's leading contemporary maternity retailer, are teaming up to offer a special "donate and get a discount" deal to expectant mothers in 19 cities across the U.S. including Atlanta; Austin, Texas; Boston; Charleston, S.C.; Dallas; Denver; Harrisburg, Pa.; Las Vegas; Los Angeles; Maple Shade, N.J.; Miami; Milwaukee; Nashville, Tenn.; New York; San Francisco; Santa Ana, Calif.; St. Petersburg, Fla.; Washington; and West Palm Beach, Fla.
Donors are asked to bring in a pair of jeans and other clothing they no longer need to participating A Pea in the Pod stores, and they will get a 25 percent discount coupon that can be used that same day toward a new pair of maternity jeans. Here in Denver, take your jeans and shop at A Pea In The Pod Clayton Lane in the Cherry Creek North Shopping District.
Each pair of jeans donated to A Pea In The Pod Clayton Lane will be given to Goodwill Industries of Denver and sold in one of its retail stores across the Denver metro area and northern Colorado. The revenue from the sale of donated items helps fund Goodwill's local job placement and training, career counseling, skills building services, and other community-based programs focused on creating greater self-sufficiency through the power of work.
"Goodwill is thrilled to be teaming up with A Pea in the Pod to offer this great opportunity for expectant moms," said Kim Zimmer, Chief Marketing Officer & Senior VP of Global Development for Goodwill Industries International. "This partnership gives moms-to-be a way to tidy up their wardrobes, donate to help people in their communities get jobs, and get some fashionable clothes for the months ahead."
The donation partnership is built on a successful collaboration between A Pea in the Pod's parent company, Destination Maternity, and Goodwill, and now has expanded to 27 A Pea in the Pod stores. The promotion runs from February 16 to March 9 at participating A Pea in the Pod locations across the country. The offer is valid for one pair of jeans per visit.
About A Pea in the Pod
A Pea in the Pod® features a curated selection of extraordinary styles and exclusive designer labels for a mom-to-be. Our global boutique carries a fashion-forward assortment that never compromises style or quality. Welcome to 40 weeks of Chic.®
About Goodwill Industries International
Goodwill Industries International (GII) is a network of 163 community-based, autonomous organizations in the United States and Canada with a presence in 13 other countries. GII is a 501(c)(3) nonprofit that is recognized by GuideStar with its Platinum Seal of Approval, the organization's highest rating for charities. GII was also ranked by Enso as the #1 brand doing the most good in the world, and was the only nonprofit brand rated in Forbes' 20 most inspiring companies for three consecutive years. Local Goodwill organizations are innovative and sustainable social enterprises that fund job training programs, employment placement and other community-based programs by selling donated clothing and household items in more than 3,200 stores collectively and online at shopgoodwill.com®. Local Goodwill organizations also build revenue and create jobs by contracting with businesses and government to provide a wide range of commercial services, including packaging and assembly, food services preparation, and document imaging and shredding. Last year, local Goodwills collectively placed 312,000 people in employment in the United States and Canada. In addition, more than 35 million people used computers and mobile devices to access Goodwill education, training, mentoring and online learning services to strengthen their skills. To learn more, visit goodwill.org.