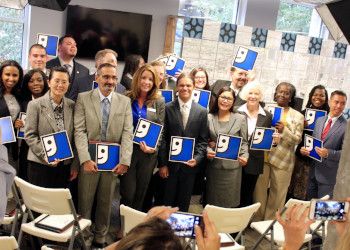 DENVER, Colo. – After much success with its inaugural session, Goodwill Industries of Denver is set to host its second BankWork$™ class at the 15509 E. Iliff Avenue location in Aurora on Monday, January 9. BankWork$™ is a free, eight-week financial services job training program that serves individuals with barriers to employment. BankWork$ is a national program that began in 2006 and has over 1,300 graduates now working as bank tellers, customer service representatives and personal bankers at leading financial institutions across the country.
"I feel a lot more confident about my future and more secure financially," said BankWork$™ graduate Brandon Madrid. Before starting the program, Brandon was jumping from one job to the next mostly in construction and landscaping. "I have a trajectory now. I'm no longer at a dead-end job." Brandon was hired by Wells Fargo shortly after Denver's first BankWork$™ graduation ceremony and hiring fair on October 12.
Of the 19 students who graduated the first program, 13 are now working at leading local banks in the Denver metro area including Academy Bank, Bank of America, First Bank, Wells Fargo and U.S. Bank. As part of the program, Goodwill's BankWork$™ facilitator is still working with the six remaining graduates to secure appropriate job offers. With a 68% placement rate, the program is looking forward to changing the lives of more Coloradans in need with its second session.
"The success of our first BankWork$™ class is indisputable," said Stuart Davie, president and CEO of Goodwill Industries of Denver. "We're looking forward to building off that accomplishment and impact more lives in our community with our second session."
Starting January 9, classes for the eight-week course will be held Mondays, Wednesdays and Fridays from 9 a.m. to 4 p.m. at a training facility within the Goodwill retail store in Aurora located at the 15509 E. Iliff Avenue. A graduation ceremony and hiring event will be held on March 8, 2017. Goodwill will hold at least one class per quarter, ramping up to two classes per quarter in the fall of 2017.
Thanks to help from partnering banks such as Academy Bank, Wells Fargo and U.S. Bank, Goodwill Industries of Denver will be able to provide its BankWork$™ students hands-on experience with industry professionals. Participating banks will also have representatives at the career fair that will follow each graduation ceremony.