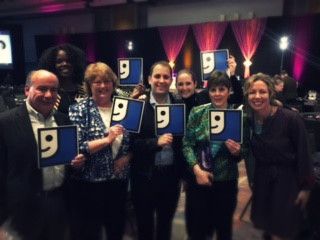 DENVER, Colo. – The administrative assistant to the President and CEO of Goodwill Industries of Denver was honored with the most prestigious award of the 2016 Denver Metro Admin Awards on November 16. Mary Downes was recognized with the Colleen Barrett Award for Administrative Excellence. Named in honor of Colleen Barrett's rise from legal secretary to President and Chief Operating Officer of Southwest Airlines—the coveted award is presented to the admin who, among other qualities, best demonstrates a passion for customer service both internally and externally while also having a heart for employee advocacy.
"Goodwill is so grateful for everything Mary has done and continues to do for this organization," said Stuart Davie, President and CEO of Goodwill Industries of Denver. "Mary is passionate about Goodwill's mission and is committed to making a difference in our community. There isn't anyone more deserving of this award than Mary, and I'm so proud to have her on my team."
Mary has 41 years of administrative experience, intentionally choosing to serve executive leadership teams of organizations that make a difference in the lives of the people in her community. She has supported three CEOs in the 14 years she's been with Goodwill Industries of Denver and continues to serve in the elected position of Assistant Secretary for the Board of Directors.
"I am honored to be recognized with this prestigious award, and couldn't thank my Goodwill family enough for thinking of me," Mary said during the awards ceremony. "I love what I do, and I love serving a mission that I believe in. I'd also like to thank my family for all the love and support you've shown me every step of the way. Thank you."
Outside of her duties at Goodwill, Mary volunteers for a global, spiritual community coordinating events and frequently hosting international guests at her home with her husband of 30 years. She also enjoys spending her time with her four children and three grandchildren.