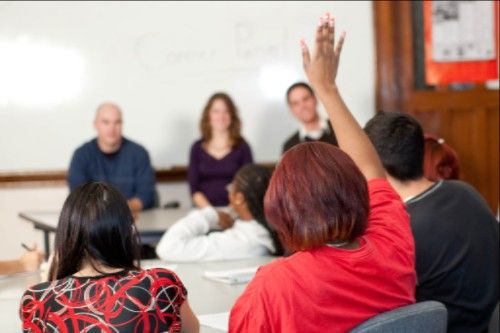 DENVER, Colo. – Mile High United Way continues to impact thousands of students across the metro area and northern Colorado by awarding Goodwill Industries of Denver a $75,000 grant to fund its youth career development programs. Goodwill's youth facilitators are placed in 36 schools across the region to execute a curriculum providing career and technical education, job and life skills coaching, campus and worksite visits, one-on-one mentoring as well as internship and job placement.
"Mile High United Way is proud to support the work of Goodwill Industries of Denver and all the good it does in our community. Serving more than 17,000 at-risk youth annually with career development, dropout prevention and postsecondary and career readiness services, Goodwill is helping us move the needle to ensure we are developing tomorrow's talent," said Christine Benero, President and CEO of Mile High United Way. "As we live our mission to change the odds for individuals and families, we could not have a stronger partner."
"We are extremely grateful for the continued support of Mile High United Way. Our schools are better because of the work this organization is doing day in and day out, and we are honored to work side by side with them," said Stuart Davie, President and CEO of Goodwill Industries of Denver. "Our future workforce is empowered thanks to the dedication of organizations like Mile High United Way."
About Mile High United Way
Mile High United way unites people, ideas and resources to create opportunities for all children, their families and individuals in Metro Denver. By conducting deep community research, advocating for change, investing in strong community programs and bringing people together to solve problems that not one organization can solve alone, they develop long-term solutions that ensure children are learning and reading at grade-level; young people graduate from high school ready for college or the workforce; and individuals and families have their basic needs met and are afforded every opportunity to move toward economic success. Mile High United Way is more than an organization: they are a catalyst for social change. Visit unitedwaydenver.org to learn more.