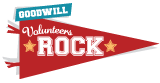 DENVER, Colo. – Start your day off right with a celebration of all that we have accomplished this past year. Volunteers rock, and Goodwill wants to thank you for everything you do for students and adults! It would be impossible to serve more than 23,000 students and adults through the Power of Work in the Denver Metro area and northern Colorado without your gift of time.
Don't miss out as we'll be handing out awards for a few outstanding volunteers!
Thursday, June 16, 2016
8 - 9 a.m.
Mile High United Way
711 Park Ave West, Denver 80205
Click here to register for the event.