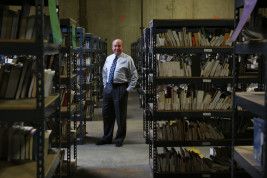 AURORA, Colo. – Retail stores used to be able to count on one advantage to get them through the tough times: The American shopper's desire to spend.
Rick Hettlinger is the new chief financial officer for Goodwill Industries of Denver on Tuesday April 12, 2016 at Goodwill headquaters and warehouse. Photo by Gabriel Christus/Aurora SentinelOver his decades as an executive at retailers like Sunflower Market, The Walking Company and others, Rick Hettlinger saw those shoppers' tendencies firsthand.
Click here to read the full article in the Aurora Sentinel.