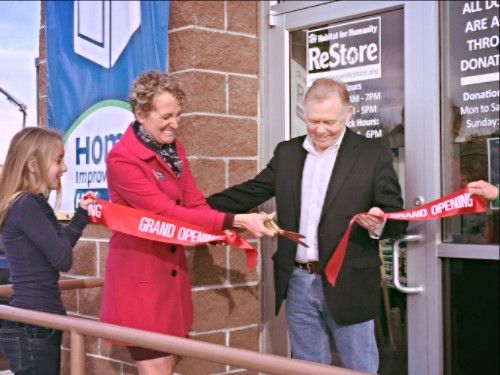 HIGHLANDS RANCH - Goodwill Industries of Denver is teaming up with Habitat for Humanity of Metro Denver at the organization's newest ReStore location in Highlands Ranch. It's the only collaboration of its kind in the country, and the two nonprofit organizations are celebrating the partnership in a grand opening celebration on Saturday, January 30.
The new ReStore will share the same donation dock with the Goodwill thrift store next door. While the two shops will have separate store fronts, the donations will be shared. The partnership allows supporters to bring donations accepted at both organizations to one shared location, making this a one-stop donation destination. Habitat's ReStore will receive all appliances, cabinets, flooring and other home improvement materials, while Goodwill will take all the clothing and housewares. Because both organizations accept furniture donations, the ReStore will get furniture donated on even days and Goodwill will get furniture donated on odd days.
"Habitat for Humanity is thrilled to partner with Goodwill in this first-of-its-kind collaboration," said Heather Lafferty, CEO and Executive Director of Habitat for Humanity of Metro Denver. "We're excited to work together to create this unique, shared resource which will support both of our organizations, and ultimately, strengthen our community."
Habitat's ReStores have similar missions to Goodwill's thrift stores. Donations made to ReStores help Habitat for Humanity build homes for Coloradans in need. Donations made to Goodwill thrift stores fund community programs that help struggling adults, individuals with disabilities and at-risk students find work and prepare for a brighter future.
"Our collaboration with Habitat for Humanity was developed through hard work and ingenuity," said Stuart Davie, CEO of Goodwill Industries of Denver. "Sharing the collective space in Highlands Ranch will allow both organizations to expand our impact on the community, and we can't be more thrilled to pave the way in this innovative partnership."
The grand opening at the new ReStore location at 8585 S. Poplar Way will begin with Heather Lafferty and Stuart Davie leading a ribbon cutting ceremony at 9 a.m. on Saturday, January 30. Later that morning, two of the Denver Broncos Cheerleaders will be on hand to celebrate the collaboration. Everything in ReStore locations across the metro area will be 25% off, and shoppers will have the chance to win a $300 gift card at each location. There will also be a free hot dog lunch, and sweet treats will be given out to anyone who makes a donation that day! Shoppers at the Highlands Ranch ReStore will also have several chances to save at the Goodwill right next door as well.
About Habitat for Humanity of Metro Denver
Habitat for Humanity of Metro Denver is part of a global, nonprofit housing organization that seeks to put God's love into action by building homes, communities and hope. Habitat is dedicated to eliminating substandard housing locally and worldwide through constructing, rehabilitating and preserving homes; advocating for fair and just housing policies; and providing training resources to help families improve their housing. Habitat was founded on the conviction that everyone deserves a simple, durable place to live in dignity and safety, and that decent shelter in decent communities should be a matter of conscience and action for all. Habitat for Humanity of Metro Denver has served more than 600 families throughout its 36-year history in Denver. For more information, please visit HabitatMetroDenver.org.