Goodwill is in the sustainability business
When you donate your gently used items, you are recycling and repurposing items that would otherwise be destined for the landfill, and you are providing an opportunity for individuals to shop for necessities at affordable prices… but the story doesn't end there.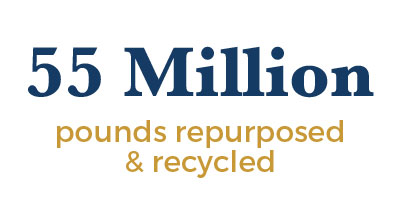 Your gently used items are sold or recycled and transformed into life-changing career development programs for people with disabilities or disadvantaging conditions. A constant flow of donations from the community ensures that Colorado's future workforce is educated and empowered.
---
Recycling Awards and Recognition
Colorado Association for Recycling: Outstanding Nonprofit Recycling/Diversion Program Award

Denver Metro Chamber of Commerce: Green Business of the Year Award

Recycling Industry Standards: R2:2013 Certification
The R2:2013 Certification is one of the electronics recycling industry's most widely recognized certifications in the country, and is designed to ensure transparency and environmental and social responsibility. Goodwill Denver's recycling facility located at 6850 Federal Boulevard is the first Goodwill chapter in the country to be awarded the prestigious R2:2013 Certification to-date. Several other Goodwill chapters are currently going through the certification process, and Goodwill Denver is assisting with that training.
---

Computer Recycling
Don't throw out those outdated or non-working computers! Recycle your e-waste with Goodwill to ensure that harmful chemicals don't end up in the landfill. Plus, you'll be providing jobs for individuals with disabilities.
The Goodwill Good Electronics program is and easy way for Coloradans to recycle computer equipment in an environmentally safe way, while also helping people in need. Learn more about Goodwill's Good Electronics Recycling Program here. 
---
Recycle cell phones, batteries, ink cartridges, and more
Visit any Goodwill location and look for the cell phone donation bin inside to safely and securely recycle:
Any brand of cell phone, in any condition

Bluetooth devices, accessories
---