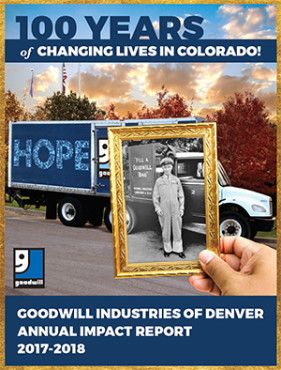 Goodwill in the community
You may know our iconic blue "smiling G" logo, but we'd like you to take a closer look at Goodwill Industries of Denver.
When you donate your gently used items, you are recycling and repurposing items that would otherwise be destined for landfill, and you are providing an opportunity for individuals to shop for necessities at affordable prices… but the story doesn't end there.
---
Transforming donations into life-changing opportunities
Each item sold in Goodwill stores represents a chance for someone in the community to find success, hope, and dignity, despite any barriers they may have. Goodwill career development programs help individuals believe in themselves and the Power of Work.
Goodwill's positive impact on the community begins with the generosity of community members and business partners and is transformed into life-changing opportunities and, ultimately, societal change.
---
In 2017-2018 in metro-Denver and northern Colorado, Goodwill…
transformed millions of pounds of donated goods into life-changing opportunities for people in the most need
put 100% of financial donations and grants toward programs
served tens of thousands of at-risk students, struggling adults, and individuals with disabilities
kept millions of pounds of recyclables out of our landfills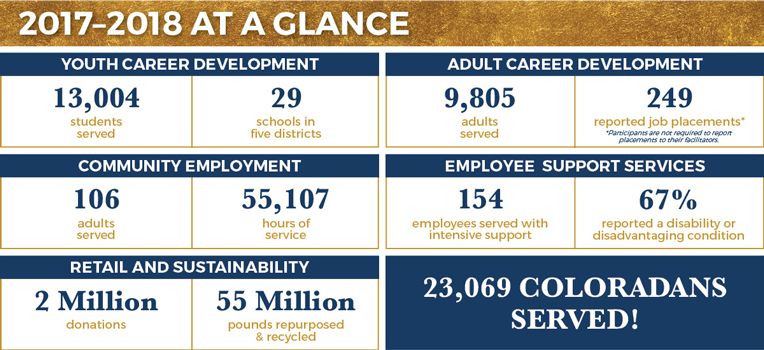 Our Mission
Goodwill provides education, career development, and employment opportunities to help Coloradans in need achieve self-sufficiency, dignity, and hope through the Power of Work.
Our Vision
The communities we serve are better, stronger, and more sustainable because Goodwill is there.
Our History
Goodwill has been changing lives for nearly 100 years. What began as one person collecting items door-to-door for the needy has become the ultimate socially responsible retailer, providing career services to more than 27,000 Coloradans in need.
---
Our Success
See our mission at work by hearing from the people whose lives have been changed by Goodwill.