Helping teens focus on the future
Education and career development for at-risk students
Goodwill addresses deep deficits in graduation rates by providing education, career development, and mentor programs to at-risk youth. Goodwill's Youth Career Development Program helps young people focus on their future career aspirations in order to ensure success.  Goodwill youth specialists are licensed teachers, working in 36 high-poverty schools across six districts to provide direction and support to more than 17,000 youth.
Program highlights
Classroom instruction
Goodwill staff works in 36 middle and high schools as teachers, interventionists, case managers, and resource specialists.
Mentor support
Goodwill enlists the help of business professionals to be positive mentors to students, offering guidance and advice.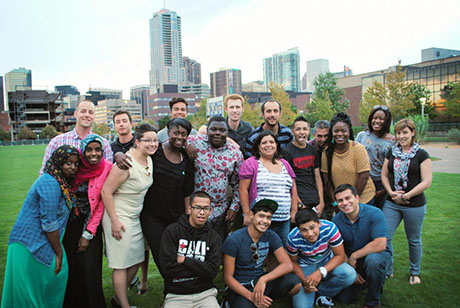 Summer Bridge

The Summer Bridge Program connects first-generation college students with individuals who can offer advice about their own college experience. Students meet with their volunteer mentors in a group setting one evening per week in the summer, and mentors continue to provide support throughout the first year of college. If you'd like to be a Summer Bridge mentor, please click on the picture to the right to download an application.

Mentor support for young men

The Goodwill Men at Work group mentoring program connects young African American and Latino men to mentors in the community and each other.

College success

Goodwill youth specialists and mentors keep in close contact with first-generation college students to ensure success and graduation.

Real-world examples

Volunteers conduct resume workshops, career panels, mock interviews, job and life skills coaching, and networking practice to support Goodwill's curriculum with real-world examples.

Job experience

Goodwill connects students with job clubs, job shadow opportunities, jobs, and internship placements. The program also provides service learning and volunteer opportunities for students.

Resources

Goodwill teachers nominate students for scholarships and provide financial assistance search support and resource referrals.

Newcomers

Goodwill provides specialized support for refugee students and their families.
Goodwill's Student Advisory Council
The Goodwill Student Advisory Council (SAC) is a diverse group of high-school students who represent seven school districts in the Denver-metro area. They act as leaders in Goodwill's Youth Career Development Program and in the community, participating in valuable business networking events and community service projects. Many members have struggled to overcome obstacles like homelessness, extreme poverty, and the burden of caring for younger siblings, while also focusing on high school graduation and beyond. Watch more Goodwill success stories here. 
Volunteer to help youth succeed. Sign up here.