Stuart Davie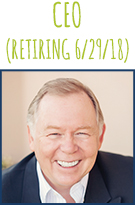 Stuart has spent the last 25 years working as a global executive for multi-national companies including Baxter, Pfizer, KPMG and ConAgra. He is a leader in cultural diversity, and an expert at providing a global perspective to solve business challenges. Stuart has overseen teams of more than 400 individuals, and has worked in more than 20 different countries. He is an expert in aligning departments with the overall strategic direction of an organization. Along with a team of executives, Stuart implemented an international strategic plan for the orthopedic division of Pfizer that grew global revenues by more than 10 percent. He spent 5 years with KPMG as an international consultant, and served as the General Manager for an engineering company in the United Kingdom. He has an effective understanding of aligning business services and support, to high-level business needs.
Stuart found tremendous success as a global executive for more than 25 years and in 2012 he made a thoughtful decision to bring his leadership expertise to Goodwill Industries of Denver as a way to give back, and impact growth and change in his local community.
As CEO of Goodwill Industries of Denver, Stuart Davie's strategic vision for the organization points to what he defines as "True North;" Goodwill's mission to serve nearly 23,000 Coloradans in need annually. Under Stuart's leadership, the organization created and launched a 5-year strategic plan to not only grow as a social enterprise, but also to serve more people in disadvantaging conditions in an intensive way. As part of the strategic vision for Goodwill, Stuart has led the overhaul of Goodwill's financial processing and reporting, supported the implementation of an innovative new IT infrastructure and led the charge to redefine what it means to be the "ultimate socially responsible retailer."
Stuart has a Bachelor of Science degree in Engineering and Economics from the University of Leicester in the United Kingdom, and an MBA from the University of Phoenix. He comes to Goodwill from Baxter Healthcare Corporation as their VP of Global Systems, where he was a member of their Global Management Team. Stuart served on past board of directors for EUCOMED, RAPID, Citrix Advisory Board, PISA.
Currently, Stuart dedicates his time to several boards and committees in Colorado including The Havern School Board of Directors, The Daniels Fund Scholarship Committee, The Metro Denver Economic Development Corporation Board, the DPS College & Careers Pathways Council, Tackling the Attainment Gap Conference and Attainment Gap Roundtable Hosted by Lt. Governor Joe Garcia, Chase Denver Community Advisory Board, and CXO Executive Connections Committee. Stuart volunteers regularly with students in Goodwill's Youth Career Development Program and mentors first-generation college students each summer in Goodwill's Summer Bridge Program.