Richard Hettlinger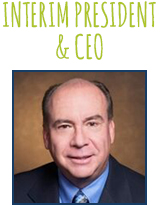 Richard Hettlinger is the Interim President & CEO of Goodwill Industries of Denver. Hettlinger joined the Goodwill team as our Chief Financial Officer in February of 2016. He will continue to manage his CFO responsibilities, but will leverage the talents of his team and beyond as he leads the organization through this transition. Hettlinger's expertise and familiarity of Goodwill's processes and opportunities—combined with his extensive retail and non-profit leadership experience—position him well to lead the organization forward.
In his long list of qualifications, Hettlinger has also served on the Board of Directors for several local charity chapters including United Way and Girl Scouts of the U.S.A. Additionally, he provided consulting services to Habitat for Humanity. Rick looks forward to leveraging his experience to help Goodwill create even more resources for its proven career development programs. According to Hettlinger, it's incredibly rewarding to know that he's working for an organization that provides such wonderful services within our community.
Hettlinger has an impressive executive leadership background in both finance and operations at the CEO, COO, and CFO levels contributing to the rapid growth of Sunflower Farmers Markets and the financial turn-around of several multi-million-dollar corporations including The Walking Company and Heartland Industries.