Joyce Schlose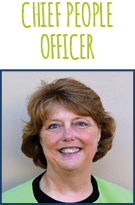 Joyce has been involved in program leadership, development and evaluation for more than 28 years, 20 of which have been at Goodwill Industries of Denver. Currently, she is responsible for the operation and leadership of Goodwill's Human Resources department and the Workforce Development Division, which focuses on reversing the cycle of poverty for struggling individuals in our community.
Under Joyce's leadership, Goodwill went from serving about 1,000 individuals to more than 27,000. Joyce helped expand career readiness programming to serve struggling adults looking for work and opportunity and at-risk youth in 36 high-poverty schools in Colorado. Joyce has also been instrumental in developing program measurements and reporting tools in partnership with The Evaluation Center at University of Colorado to efficiently and effectively measure and report on program outcomes. Previously, as Director of Training and Development at the Denver Metro Chamber of Commerce, Joyce was responsible for creating innovative training programs for Chamber members as well as employees. Joyce developed and administered 53 business educational programs, grew membership attendance by 200% and significantly increased customer satisfaction. Joyce also generated corporate sponsorships for all training programs and managed the training and development budget.
Joyce currently serves as a volunteer for Denver Public Schools (DPS), is a Denver Public Schools Career and Technical Education Board Member, and is on the Board of the Pellish Foundation.